"Why be moody, when you can shake yo booty?"
I wrote myself a little note on the blackboard attached to my door and snapchatted it to my friends. I wanted this to be the last thing I saw as I walked out of my house each morning. Generally the notes I write are pithy and not suitable for general consumption, but this one was inspired!
I'm sure this is not original to me – I probably saw it on a Pinterest board somewhere.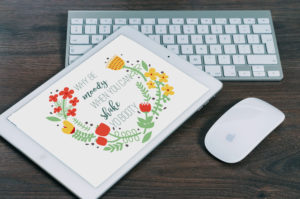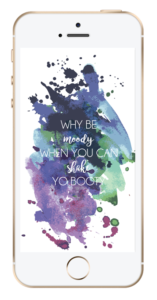 Regardless, after snapping it to my friends, I got some positive feedback. A dear friend Hannah wanted it for her phone's background. I promised her a couple graphics within a few days – though as life does, it got away from me. They're finally finished; a series of free backgrounds for all your tech. I have them each formatted with ideal sizing for phones, tablets, and desktop. All you have to do is click on the appropriate link to be brought to your image! Right-click or long-press to save the image.
Free Backgrounds:
Download phone background, version one (1080 x 1920)
Download phone background, version two (1080 x 1920)
Download large android background, version one (1440 x 2560)
Download large android background, version two (1440 x 2560)
Download iPad background, version one (2048 x 2732)
Download iPad background, version two (2048 x 2732)
Download background (tablet or desktop), version one (2048 x 1536)
Download background (tablet or desktop), version two (2048 x 1536)
I remain Sir, &c, &c