There's a fairly ubiquitous college girl outfit in the north east United States. The outfit consists of black yoga pants, tan Ugg-style boots, a black Northface jacket, and (optionally) a Starbucks cup in-hand. The outfit isn't bad, but it lacks in practicality.
Layering becomes one of the most valuable skill sets an adult can have in a winter climate. It's the morning and evening walks to and from my house that I'm the most bundled up.  Women whose commutes involve 5+ minutes of walking have a fluid mastery of winter layers. Sweaters, cardigans, woolen scarves, cotton accessory scarves, mittens, commuting shoes (office heels or flats are tucked into bags), layered tights, socks, blouses, skirts or pants, and even dresses can be in a single day's outfit.
As the temperature drops steadily, the air gets colder and clammier, and sleet and snow are spit out in equal measure, we pack on the layers. Accounting for the heat of the bus (or train) whose hot-air blower is "whispering butterfly" or "Mt. Saint Helena," and the office HVAC system waffling between "Phoenix, AZ" and "remote Yukon town" requires a lot of planning.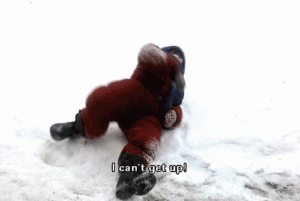 It becomes a challenge to find garments that can expand and contract to fit all the layers that I wear (and shed). Looking around at the bus shelter – I'm not the only one with this struggle. Everyone seems to be 10 pounds of sausage in a 5 pound casing. We've achieved A Christmas Story status; we're Ralphie's younger brother.
The guy standing next to me struggles to bring his thermos to his mouth – his elbow can't bend under a jacket and six sweaters. A woman braces herself on the shoulder of her friend next to her;  the weight of her jacket hood threatens to topple her. The stocking cap of the child running nearby drags on the ground – one ill-placed foot, and he will do a snowy upended turtle impression. If anyone falls to the ground, they will be unable to do much more than roll about, doing their best Randy impression.
There's nothing wrong with the "basic" outfit of Uggs, a Northface and yoga pants – just consider embracing layers.
'Til next week, enthusiastically